Past President David A. Loiterman, MD 2010-2011
President of the Chicago Medical Society, 2010-2011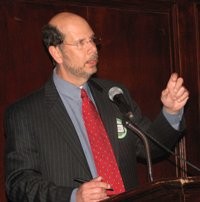 David A. Loiterman, MD, Oak Brook, was inaugurated as the Chicago Medical Society's 162nd president during ceremonies on  May 11, at the CMS Annual Meeting held at Maggiano's Banquets, Chicago.
Dr. Loiterman is a vascular surgeon in solo practice, with staff appointments at LaGrange Memorial and Hinsdale Hospitals.  He previously served on LaGrange Hospital's Executive Committee and as Vice Chairman of its Department of Surgery.
Dr. Loiterman is a former Clinical Assistant Professor of Surgery at the University of Illinois at Chicago.  He earned his medical degree at Mount Sinai School of Medicine, in New York City, and completed a thoracic surgery fellowship at St. Luke's/Roosevelt Hospital, also in New York City. He completed his fellowship in vascular surgery at Rush-Presbyterian-St. Luke's Medical Center in Chicago.
Dr. Loiterman joined the CMS Board of Trustees in 2005, representing District 5.  A CMS member since 1986, Dr. Loiterman served as Councilor and President of the Douglas Park Branch before becoming a Trustee and Chairman of the Council.
Dr. Loiterman is Chairman of the CMS Board of Trustees and the Editorial Advisory Staff.  He previously served on the following committees: Budget; Building; Continuing Medical Education, Bylaws/ Policy Review, Service Bureau Board, Communications/ Technology, Physician Advocacy, Healthcare Economics, and Resolutions Reference.  He is a Past Chairman of the Committee on Committees and Midwest Clinical Conference Committee.  He continues to serve on the Long-Range Planning Committee.  A Delegate to ISMS, he has served on the ISMS Council on Medical Service, Governmental Affairs Council, Medical Legal Council, and Council on Economics.  He currently serves on its CME Accreditation Appeals Panel and is Board Consultant to the Council on Communications.
Dr. Loiterman has published articles in the Journal of the American Medical Association, Journal of Pediatric Surgery and Journal of Vascular Surgery.  He holds patents on the Guidance System for Vascular Catheter and the Vascular Access System for Extracorporeal Treatment of Blood.
In his free time, Dr. Loiterman enjoys sailing.
This year Dr. Loiterman and wife, Anne J. Schneider, celebrate their 37th wedding anniversary; they have two sons, Michael Grant, and Jonathan Brian.  Their first grandson, Jack, was born March 26th 2008.
* * *