Past President Katherine M. Tynus, MD 2015 - 2016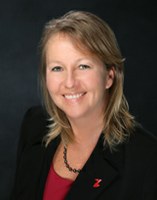 Katherine M. Tynus, MD, a board-certified Chicago internist, was inaugurated as the Chicago Medical Society's (CMS) 167th president during ceremonies on June 22, at the CMS Annual Meeting.
Dr. Tynus was born and raised on the Northwest side of Chicago, in Jefferson Park. She attended Resurrection High School, Northwestern University, and the University of Illinois College of Medicine at Rockford and completed her residency training in Internal Medicine at Loyola University Medical Center in Maywood. Upon graduation she served as Chief Resident in Internal Medicine at MacNeal Hospital in Berwyn, where she accepted a position as faculty and rose to Program Director of the hospital's Transitional Year Residency Program, a position she held for 13 years.
In 2012, Dr. Tynus joined the staff at Northwestern Medicine as an outpatient-based primary care internist. She continues to teach medical students in her new role.  In addition, she has served on the American Board of Internal Medicine's test-writing committee for several years. Most recently she was appointed to the ACGME Transitional Year Review Committee.
A CMS member since 2006, Dr. Tynus has served on the following committees: Public Health; Membership/International Medical Graduate; Continuing Medical Education; and Midwest Clinical Conference.  At the Illinois State Medical Society, Dr. Tynus has served on the Council on Education and Health Workforce, and the Finance Committee.
In 2004, the American Medical Association honored Dr. Tynus with the AMA Physician's Recognition Award. Dr. Tynus has also been awarded both a Gold and Silver Apple Award for teaching. She has lectured nationally on issues in transitional year residency training, such as patient safety and quality improvement, best practices, and career planning.
Her community service history includes health fairs and lectures to community groups on hypertension, diabetes and heart disease, and osteoarthritis.  Dr. Tynus recently volunteered at Chicago's Community Health Center, and as a science fair judge at St. Francis of Rome Elementary School.
A fellow of the American College of Physicians, and a member of the Association for Hospital Medical Education, Dr. Tynus serves on the Executive Committee of the Council of Transitional Year Program Directors, where she served as Co-chair of the Council for two years.
Her research interests include barriers to breast cancer screening and helping residents improve their medical history taking skills.