CMS Goes to Washington Part 2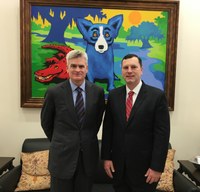 Working both sides of the aisle, Dr. Brown meets with Senator Bill Cassidy of Louisiana
TELEMEDICINE
The Chicago Medical Society urged lawmakers to pass the "Creating Opportunities Now for Necessary and Effective Care Technologies (CONNECT) for Health Act (S 2484/HR 4442)," introduced by Sen. Brian Schatz (D-HI) and Rep. Diane Black (R-TN), which would advance the practice of telemedicine.
The legislation would:
Establish a bridge to help physicians meet the goals of MACRA and MIPS through the use of telehealth and remote patient monitoring (RPM).
Maintain high standards whether a patient is seeing a physician in an office or via telemedicine.
Allow telehealth and RPM to be used by qualifying participants in alternative payment models. • Significantly expand physician telemedicine services to promptly identify and diagnose strokes.
Increase telehealth and RPM services in community health centers and rural health clinics.
Allow telehealth and RPM to be basic benefits in Medicare Advantage.
Preserve state-based licensure for physicians.

IMPROVING MEANINGFUL USE
After years of Chicago Medical Society advocacy, the federal government promised to transform the Meaningful Use program into something that empowers physicians to provide the best possible care rather than one that frustrates and distracts.
CMS resolutions to the AMA help guide these efforts toward seamless interoperability and information exchange.
Meaningful Use must:
Ensure that health technology is developed for individual practices, not the needs of the government.
Use clinician input to standardize data vocabularies so information has the same meaning and same format.
Establish a provider directory so physicians can find and send patient information to each other online.
Correctly match patients to their medical information, ensure privacy and security.
Ensure measures that connect to other data sources reflect how data is transported to improve patient care, not simply the quantity of data exchanged.
Resolve technology limitations, such as the lack of concise summaries of care, before physicians are held accountable for these actions.
Restructure measures away from simple data entry and reduce the burden of documentation with measures that reflect purposeful uses and functions of technology.
Ensure measures prioritize the reuse of data collected and reduce the burden on documentation.
Limit reporting periods to less than one year to allow for technology changes and system upgrades.
Incentivize participation and base incentives on achievement, not "pass-fail."

DRUG PRICING & TRANSPARENCY
The Chicago Medical Society raised the issue of soaring drug costs and the non-competitive and deleterious effects of pharmacy benefit managers (PBMs) in the medication supply chain.
"PBMs, drug manufacturers, and health insurers all influence the prices patients ultimately pay for their prescription drugs—and we need to better understand the interactions and the value these entities provide, as well as the impact on the costs of production and distribution," Dr. Brown said.
Dr. Brown noted that CMS is working with Senator Durbin's office to increase all-around transparency. "Our committee structure is studying how various factors influence patient out-of-pocket costs through direct price increases and costsharing tiers that can vary from one year to another," Dr. Brown explained.
CMS also believes transparency should apply equally to formularies and coverage restrictions so that patients and physicians can make better decisions at the point of prescribing.