CMS Goes to Washington Part 3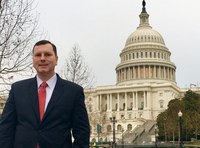 Dr. Brown advocates for physicians on Capitol Hill
ADDRESSING THE NATION'S OPIOID EPIDEMIC
The Chicago Medical Society strongly supports the following legislative reforms:
Reauthorize and fully fund "The National All Schedules Prescription Electronic Reporting Reauthorization Act (NASPER)" (S 480/HR 1725).
Increase coverage for—and access to—comprehensive treatment, including FDA-approved medications methadone, buprenorphine and naltrexone. The "Recovery Enhancement for Addiction Recovery Act" (HR 2536/S 1455) would raise the cap on the number of patients a physician can treat using buprenorphine, providing an incentive for more physicians to get the required training.
Increase access to overdose prevention measures, such as naloxone, and expand Good Samaritan protections.
Delink Hospital Consumer Assessment of Healthcare Providers and Systems survey pain questions from reimbursement determinations under the Hospital Value-Based Purchasing Program. HR 4499, the "Promoting Responsible Opioid Prescribing Act of 2016," would delink pain-related measures from hospital reimbursement.

HOSPITALS AND MEDICAID EXPANSION
Illinois hospitals could lose up to $3.2 billion annually if lawmakers repeal the ACA's Medicaid expansion without an adequate replacement. Such a move would put tremendous pressure on the state budget, causing significant harm to Illinois' economy.
Illinois was one of 31 states to expand Medicaid to those with incomes of up to 138% of the FPL ($16,394 for individuals/$33,534 for a family of four).
Moving to Medicaid block grants or some type of per capita funding could result in Illinois getting "locked in" to its current Medicaid funding level. Given the history of rock-bottom federal assistance to Illinois under the Medicaid program, restructuring Medicaid based on this historically flawed funding mechanism would lock the state into the current inequitable funding levels.
Illinois' uninsured population has decreased by more than 40% since January 2014; the amount of charity care provided by hospitals declined by 15.9%, while the number of Medicaid patients increased by 23.8%, resulting in increased Medicaid revenues to hospitals of nearly 22%.
Some have projected that a roll-back of the ACA's Medicaid expansion could cause 637,056 Illinoisans to lose coverage.

DEFERRED ACTION FOR CHILDHOOD ARRIVALS (DACA) STATUS FOR IMMIGRANTS
The "Bar Removal of Individuals Who Dream and Grow our Economy Act (BRIDGE Act)" introduced by Sens. Lindsey Graham (R-SC) and Richard Durbin (D-Ill.) as S 128, and in the House by Reps. Mike Coffman (R-Colo.) and Luis Gutierrez (D-Ill.) as HR 496, would protect from deportation undocumented young immigrants—often called "dreamers"—who have Deferred Action for Childhood Arrivals (DACA) status.
DACA's impact has been felt in medicine. More than 60 medical schools considered applications from students with DACA status for the 2016–2017 academic year, the Association of American Medical year, the Association of American Medical Colleges reports. In the coming decades, DACA protections could enable as many as 5,400 previously ineligible people to join the U.S. physician workforce. It would allow people who meet certain requirements to apply for protected legal status and work authorization for an additional three years.
Until a permanent solution on lawful immigration status for these individuals is implemented, the legislation would provide protection.

INDEPENDENT PAYMENT ADVISORY BOARD
The Chicago Medical Society supports bills to repeal the IPAB provisions of the Affordable Care Act (ACA), introduced by Sens. John Cornyn (R-Texas) as S 260, and Ron Wyden (D-Ore.) as S 251, and in the House by Reps. Phil Roe, MD (R-Tenn.) and Paul Ruiz (D-Calif.) as HR 849.
Separately, the same legislators introduced House resolutions (HJ Res. 51) and Senate (SJ Res. 16 and SJ Res. 17) that would discontinue automatic implementation of IPAB recommendations.
While never formally appointed, the IPAB is mandated to impose Medicare cuts through a fast-track process when total program spending exceeds a target amount remains. Actuaries have projected that recent Medicare spending trends will trigger the mandate in 2017, meaning that provider payment rate cuts effective in 2019 will likely be imposed unless Congress acts.