MESSAGE FROM THE PRESIDENT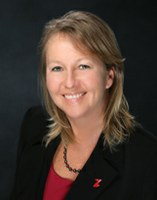 Laissez Les Bon Temps Rouler!
It was a festive and productive Mardi Gras night for our February Council meeting. As this was the last Council meeting before we head to the ISMS House of Delegates meeting in April, the agenda was packed with many important resolutions for the Council's consideration - 20 in all!
The meeting began with a very informative presentation given by Daniel Blaney-Koen, JD, Senior Legislative Attorney for the AMA. He explained the changes in the insurance market as the result of the Affordable Care Act, and measures that can be taken to protect physicians and patients.  He encouraged all of us to check our own entries in insurers' provider directories, to ensure that they are accurate. He also encouraged all members to share their stories of physician and patient hassles or harms that have resulted from the narrowing of networks. I encourage you to send your stories directly to me, or to our Executive Director, Ted Kanellakes at tkanellakes@cmsdocs.org. These stories can be very powerful in convincing legislators of the need for oversight of insurers.
Along those lines, the Council ratified the Executive Committee's resolution and letter to ISMS, asking for their urgent action to draft legislation to establish network adequacy rules, provider directory regulations, and patient protections from unfair out-of-network charges. We are hopeful that this legislation can be introduced in the spring session of the Illinois General Assembly.
We had many visitors in attendance, including many medical students from UIC who gave very passionate testimony supporting Dr. Peter Orris's resolution endorsing a single-payer model. After much heated debate, the Council voted to study the feasibility and impact of a single-payer system. However, there was general consensus that CMS should conduct a poll of its members on this issue, which we plan to do in the near future. We value your opinion, and the results can help guide future policy decisions.
Numerous additional resolutions were passed, many of which will be introduced at the ISMS House of Delegates this spring. I have listed them at the end of this email. The meeting will be held in Springfield this year, and we are looking for committed and passionate CMS members to act as delegates to support our policies. If any of these resolutions resonate with you, please consider joining us in Springfield as a delegate. Please contact me or Ted if you're ready for a road trip to Springfield!
Your leadership will be traveling to Washington, DC, later this month to advocate for policies at the federal level. Please let me know if there are any issues or pending legislation that you think are important to promote.
Please visit our website and our Facebook page, follow us on Twitter and share any articles that you think are important. Here's a link to my latest President's message for you to pass along to friends and colleagues, if you'd like: http://www.cmsdocs.org/news-publications/chicago-medicine-magazine/2016-issues/January2016.pdf We need your help in promoting awareness of the important work we're doing at CMS and to increase membership.
I am ready, willing and able to come speak about CMS and ISMS to any group of your choice - hospital medical staffs, specialty societies, ethnic societies, single and multi-specialty groups, weddings, bar mitzvahs, birthday parties, etc. Feel free to contact me directly by phone or email to make arrangements.
Thank you for your membership and support. Whether you're an active member on the Council, a committee, or just pay your dues, remember that we couldn't do any of this without you.
Kathy
Katherine Tynus, MD, FACP
President
Chicago Medical Society
312-375-7237
"If you're not part of the solution, you're part of the problem"
Resolutions passed at the February 9th CMS Council Meeting:
Strengthening perioperative DNR orders (Dr. Barbara Jericho)
Requiring more stringent education for non-physician providers of dry needling (acupuncture) (Dr. David Miller)
Divesting from fossil fuel based companies (Dr. Peter Orris)
Study the feasibility and impact of a single payer healthcare system in the U.S. (Dr. Peter Orris)
Raising awareness and education about the Zika virus (Jim Curry, student)
Endorsing baby-friendly hospital and breastfeeding rights standards as promoted by the WHO (Jim Curry, student)
Promoting OTC contraceptive drug access (Jim Curry, student)
CMS and ISMS to work with Congress to create a Medical Research Strategic Planning Working Group (Academic Physicians Committee)
Promoting pharmacy adherence to rules regarding substitution of generic drugs for brand-name medications (Physicians Advocacy Committee/Dr. Linda Gruenberg)
Supporting universal background checks on all firearm sales and restricting the sale of assault-type weapons in Illinois (Public Health Committee)
Supporting CDC funding for research into gun violence (Public Health Committee)
Providing education to high school and college students on the importance of affirmative sexual consent (Public Health Committee)
Provide education on the prevention and recognition of stress and burnout in physicians (Public Health Committee)
Providing education to physicians on the safe prescribing of opioids (Public Health Committee)
Increasing awareness of the danger of nootropic use (Dr. Eric Brandt)
Protecting children from excessive sound exposure from toys (Public Health Committee)
Creating legislation in Illinois to establish network adequacy rules, establish provider directory regulations and protect patients from unfair out-of-network charges (Healthcare Economics Committee)