MESSAGE FROM THE PRESIDENT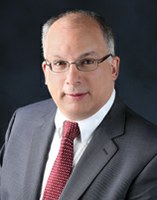 A New Year, New Goals
It is a distinct honor and privilege to serve as the 165th President of the Chicago Medical Society (CMS). The President's Message gives me the opportunity to clarify the administrative goals of the current Board of Trustees:
Maintain the balanced budget.
Discount our membership dues.
Increase our membership.
These goals may seem overly ambitious and possibly contradictory, but they are achievable.
Let's start with the budget.
Over the past several years, CMS has made significant strides toward financial stability. CMS Executive Director Theodore Kanellakes has worked tirelessly to find ways for CMS to become more cost-efficient and to deliver services to our members at lower cost. CMS has utilized new technology to lower communication costs with members, including lower-cost on-line meetings.
From 2005 through 2009, CMS had a deficit for five consecutive years, amounting to a cumulative loss of $1.49 million. In the last three years, CMS has reversed this trend and made $264,000. While the U.S. government may have $17 trillion in debt and the State of Illinois may have $100 billion in unfunded liabilities, the Chicago Medical Society owes not one dime.
Based on our new-found financial stability, the Chicago Medical Society is proposing dues discounts. CMS and the Illinois State Medical Society (ISMS) currently offer dues reductions to students, residents, members in the first four years of practice, trial members in the Partnership for Membership Growth Program, and group discounts to groups as small as three physicians. It would be much simpler to offer broad-based dues discounts to our members.
We would also like to use dues reduction to help with the vexing problem of membership. One would like to believe that the fine work of the Society would automatically translate into membership. Unfortunately, it's not that simple.
Multi-year efforts have attempted to address declining membership. Fortunately, we have already started strong in the current membership cycle. Student and resident membership renewals occur at mid-year, and we are already seeing significantly increased resident membership. Our Treasurer, Philip Dray, MD, has previously sponsored CMS membership for more than 100 residents, and he is continuing with his generous ways.
An even more challenging problem is the regular membership renewal cycle at year's end. We are moving toward completion of the Partnership for Membership Growth, a trial program that allowed physicians to become CMS and ISMS members for free for a year, followed by half dues for a year, before converting to full dues-paying members.
Our Immediate Past President, Howard Axe, MD, recognized the importance of integrating these trial members into CMS activities. In fact, of the 228 trial members, 88 already serve on CMS committees. The hope is that trial members who actively participate in the Society will be more likely to find value in full membership.
The three main projects for this year's membership recruitment include: (a) the Partnership for Membership Growth Program; (b) group recruitment programs; and (c) dues discounts to stimulate demand. It is also essential for the Society to demonstrate value to all of our members, through our communications, educational activities, and advocacy efforts.
The CMS Board of Trustees is adamant that this is not the year for more membership studies. It is the year to increase membership.
Robert W. Panton, MD
President, Chicago Medical Society