Young Physician's at Millennium Park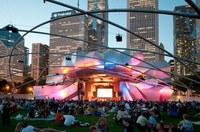 Come join us at our 2nd summer outing with the CMS Young Physicians at Millennium Park on Thursday, August 18th!  Enjoy food & drink with fellow members and guests while listening to the sound of gypsy, rock, Celtic, alt-country and folk, by Elephant Revival and Mandolin Orange.  Please feel free to come by at any time after 6:00 p.m., the concert will begin at 6:30 p.m.  Tables and signs will be set up in the back section of the lawn at Millennium Park, you can't miss us!
RSVP by emailing Ruby at rbahena@cmsdocs.org or by signing up below. Please let us know by August 16th to have an accurate food and drink ordered. Also, feel free to BYOB and food!
Member Sign Up: http://info.cmsdocs.org/SummerOutingAugust18_RockOutSignUp.html